Doctors & Staff
Meet the experienced and friendly doctors and staff who make Lifetime Eyecare the leading provider of vision care products and services in Spearfish.
Scott Kennedy, OD
A graduate of the University of South Dakota and the Illinois College of Optometry.  Dr. Kennedy's areas of interest include pediatric optometry & contact lenses. He is a member of the American Optometric Association. He is a prior president of the Spearfish Chapter of Optimists International and of the South Dakota Optometric Society. He and his wife, Dawn, live in Spearfish. They hail from Pierre, SD, and Billings, MT, respectively. Scott and Dawn are the proud parents of their active daughter Alison. In Dr. Kennedy's spare time he enjoys golfing, reading and watching college basketball-Go Blue Devils!!.
---
Terry Wolthuis, OD
Dr. Terry Wolthuis graduated from the University of South Dakota and the Illinois College of Optometry. He has worked at the Fort Meade Veterans Affairs Hospital in Sturgis, in private practice, and at Wright Vision Center in Rapid City. Dr. Terry grew up in the Sioux Falls area, moving to the Black Hills in 1999. He and his wife Kelly have 2 active children – Grant and Abby. His family is top priority. He likes to use his spare time golfing, fly fishing, and hunting.
---
Amy Barker, Optician & Vision Source Representative
Amy has worked in our office for over 20 years! She can perform nearly any task in the office and has a great sense of eyewear fashion. She will help you choose the perfect frame for your new glasses. Her extensive experience also allows her to perform eyeglass repairs. Amy resides in Whitewood and is a graduate of Black Hills State University. She is married to Travis and has two daughters, Liz and Abbie.
---
Karen Neisen, Technician
Karen has been working at Lifetime Eyecare since April 2012. Karen strives to provide a comfortable, professional environment to all patients.  The majority of her time is spent deciphering insurance and helping in many other ways as needed! Karen has lived in Spearfish community for the past 15 years. She graduated from Black Hills State University. Karen lives in town with her husband, Matt, and their 2 children. She enjoys running, fishing, swimming, cooking, reading, and shopping.
---
Kristine Coffield, Technician
Kristine has been with Lifetime Eyecare since October 2012. She loves helping patients in many ways including pre-testing, assisting with contact lens needs and helping with insurance. Kristine has lived in Spearfish for 20 years and graduated from Spearfish High School in 2000. She and her husband of 15 years, Kasey, and their 3 children, Lilly, Evan and Nathan enjoy camping and spending time with friends and family.
---
Kelli Davis, Customer Service Specialist
Kelli started with the team at Lifetime Eyecare in October of 2012. You will meet Kelli at the front desk where she greets and checks you in, answers the phone, updates patient records, accepts payments and helps where help is needed. Kelli grew up in Broadus, Montana and moved to the Black Hills in 1995. Kelli loves camping, golfing and being outdoors with her husband, Calvin, her very spoiled dogs, Bogie & Bunker, and her two children, Brandin and Kayla. You will often find Kelli working in her yard, cheering on the Dallas Cowboys, or giving someone a hard time as she loves a good joke. I'm a huge Yellowjackets basketball mom and you will find me at every game cheering them on.
---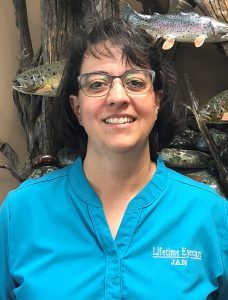 Jan Loux, Technician
Jan joined Lifetime Eyecare in December, 2017. She hopes to make the patient experience a positive one from the time a patient walks in the door, through pre-testing, and finding eyewear. Jan graduated from Saint Mary's University and is a former high school teacher and daycare provider. She and her husband John, both Iowa natives, moved to the Black Hills in 1994. They have 4 boys, Johnathan, Joseph, Samuel, & Kevin, and are now relishing their role as grandparents. In her spare time, Jan likes hunting, fishing, camping, rooting for the Packers (even in the rough years), reading, cooking, and crocheting.
---
Kathy Kruskamp, Technician
Kathy is the newest member to become a part of our team at Lifetime Eyecare; she joined in January 2021. She has been involved in the medical field for over 30 years but this is her first time working in optometry. She is very excited to add to her skill list. Kathy moved to Spearfish 21 years ago to be closer to her family that lives in Pierre. Her son, Gus, was born in Boulder CO 22 years ago and is currently attending USD to get a degree in Fine Arts Education. Her daughter, Ella, was born here and will be 18 this year. She is excited about college but hasn't decided where she wants to attend;, she does want to pursue the Forensic Criminology field. Kathy and her husband, Greg, love to spend time outdoors. She also likes to cook, read, garden, bird watch and crochet when she can.
---